Sterling is gaining against the dollar on Wednesday, enjoying a rare positive run.
Sterling has rallied to $1.2262 in early morning trade in London, a gain of roughly 0.2% on the greenback. The move is a result of dollar weakness, caused by signs that Republican US presidential candidate Donald Trump could be closing the gap with his Democratic rival Hillary Clinton. That is pushing investors away from the dollar, in turn sending sterling upwards.
Connor Campbell, a market analyst at SpreadEx, says in an email on Wednesday morning: "A fresh batch of pre-US election jitters has swept the markets this morning, investors fretting over news that Trump has taken the lead in a national poll."
Here's how it looks at around 10.15 a.m. GMT (6.15 a.m. ET):
While it has picked up on the dollar on Wednesday, sterling is falling slightly against the euro, dropping around 0.01%.
Here's the chart of the pound's performance against the euro in the last week: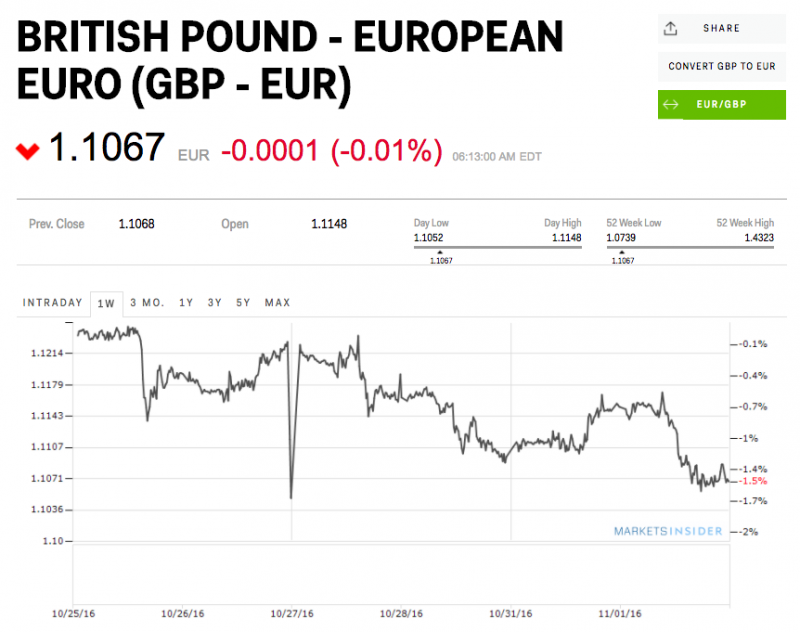 Sterling bounced in morning trade on Tuesday after Mark Carney confirmed late on Monday he is staying at the Bank of England. The Governor's announcement that he will remain at the central bank until 2019 ended speculation about his possible exit. However, as the day progressed sterling pared its gains, eventually ending the day in the red.
Het bericht The pound is getting a boost from Donald Trump verscheen eerst op Business Insider.
Lees het hele artikel: The pound is getting a boost from Donald Trump
Adverteren