Jim Harbaugh is, without a doubt, one of the best coaches in football.
Before returning the Michigan Wolverines to the top of the college football polls, he led the San Francisco 49ers to three consecutive NFC Championships and one Super Bowl. Before that, he revived a dormant Stanford program.
No matter where he has coached, Harbaugh has been defined by a crazed sense of competitiveness that has often manifested itself in peculiar ways. He is also one of the most entertaining figures in all of sports.
Below we take a look at 27 examples of his insane competitiveness.
Scott Davis contributed to this post.
---
Harbaugh coaches his kids before Halloween so that they can get the most candy by hustling to each house. Once they have gone to each house, they change into backup costumes and do it again.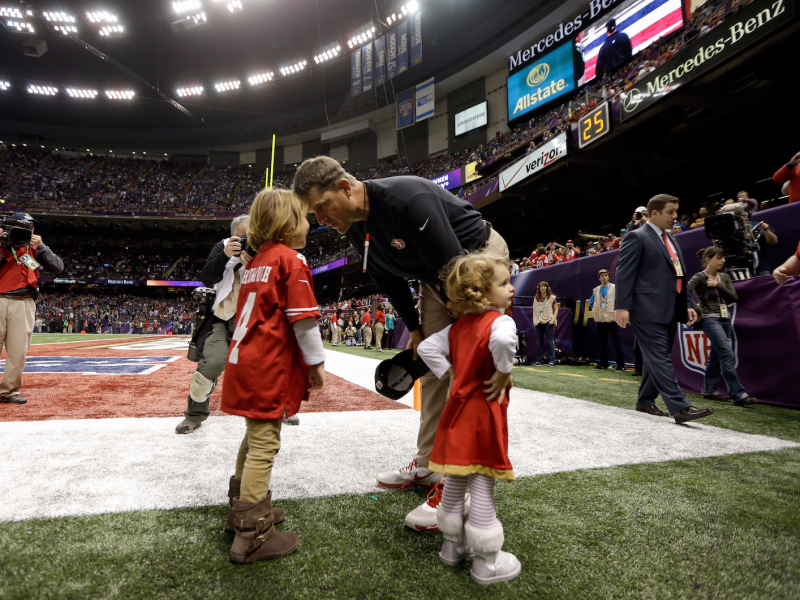 Read more: Jim Harbaugh told an incredible story that shows how insanely competitive he is in all areas of life
---
Like Steve Jobs and Albert Einstein, Harbaugh wears the same outfit (khakis!) every day because it saves him time.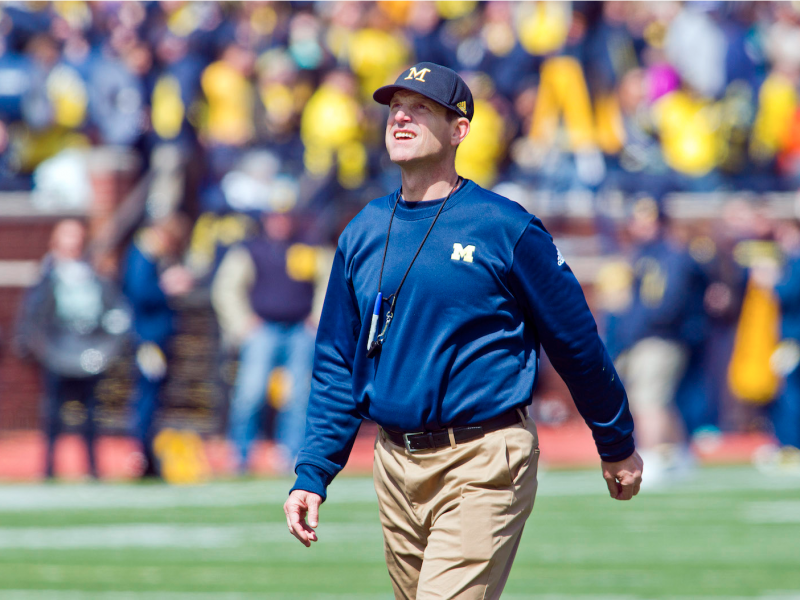 Read more: Jim Harbaugh Explains Why He Always Wears The Same Outfit
---
He will do just about anything (that isn't an NCAA violation) to bring the best talent to Michigan.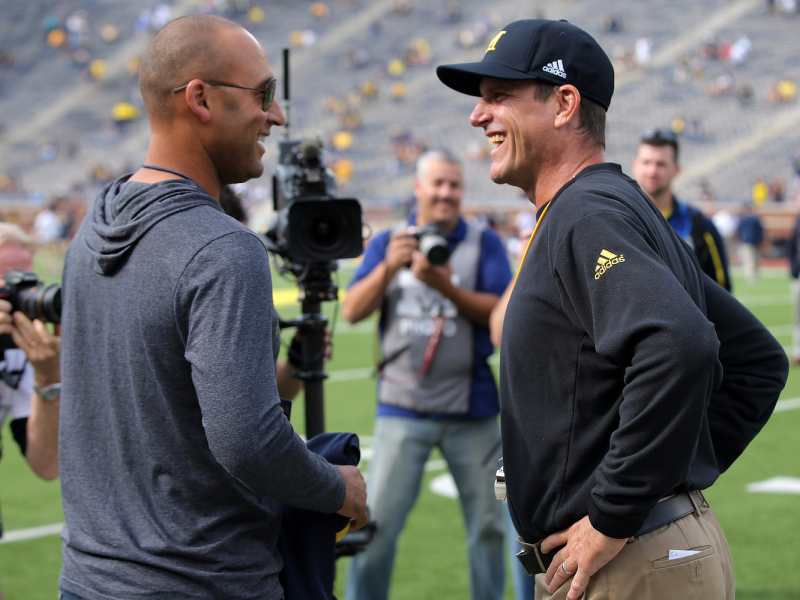 ---
He got the top high school kicker in the country to de-commit from Penn State and commit to Michigan by offering to have a sleepover at his house.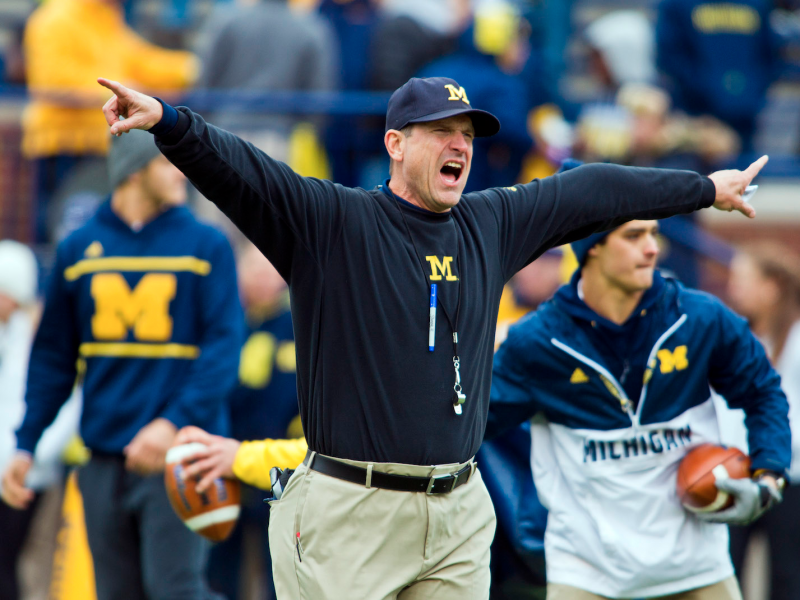 Read more: Jim Harbaugh wants to recruit a top kicker by sleeping over his house
---
He starred in a cringeworthy rap video in another recruiting ploy.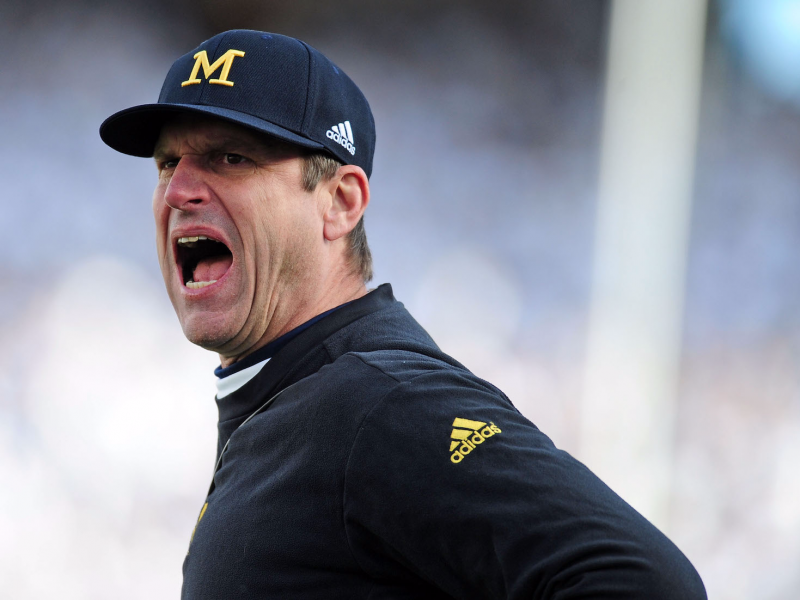 Source: ESPN
---
He also worked the chains at a high school football game in California during Michigan's bye week this season.
Source: http://www.mlive.com/wolverines/index.ssf/2016/10/jim_harbaugh_works_chain_gang.html
---
And he announced a high school's homecoming queen. Again, this is all for Michigan football!
Source: MLive
---
When Peyton Manning arrived in San Francisco during his free agency, Harbaugh smack-talked him and said his own passes had more "mustard" on them than Manning's.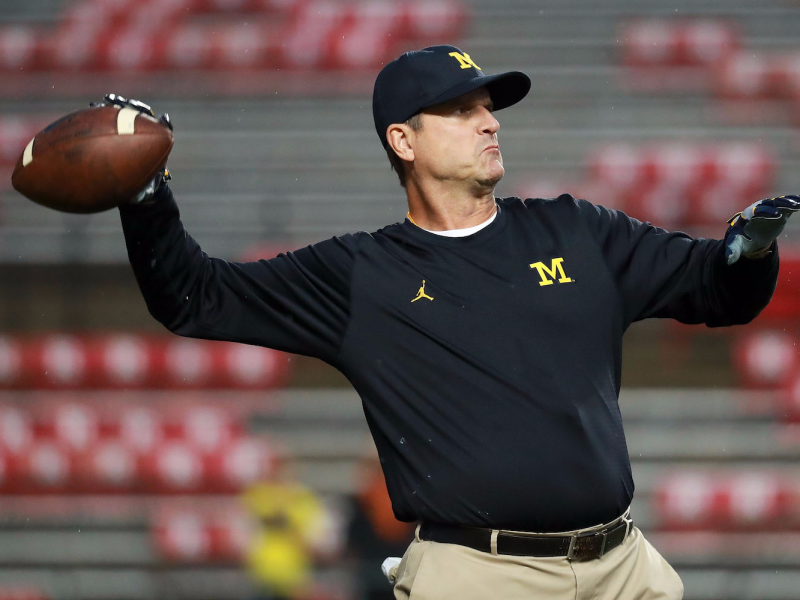 Source: ESPN
---
Prior to Stanford, he coached at the University of San Diego. He would do hill sprints with his players, and not stop when he threw up.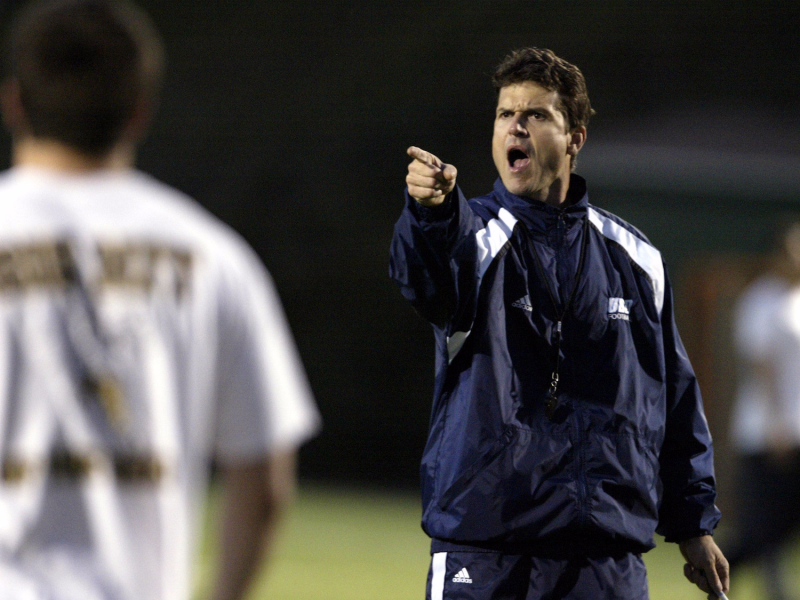 Source: ESPN
---
He also made a point of doing push-ups every day to prove to his players that he could do 100 in a row.
Source: MLive
---
During intra-squad scrimmages with the Niners, he'd make a point of making the winning team do sprints.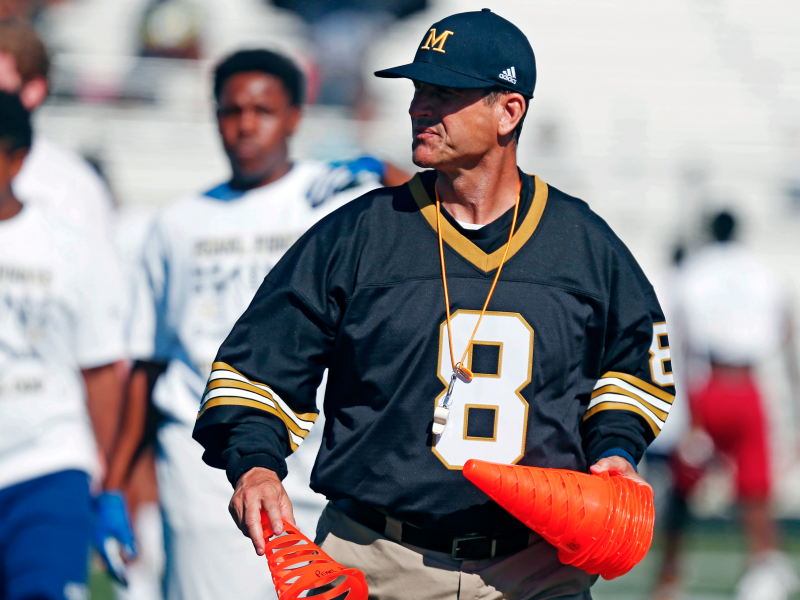 Source: ESPN
---
He once delivered an impassioned eight-page speech to his team that included the following excerpt: "My opponent is going to have to die. But does he have to kill me too? He is killing me. But he has a right to. I have never seen a greater opponent than him."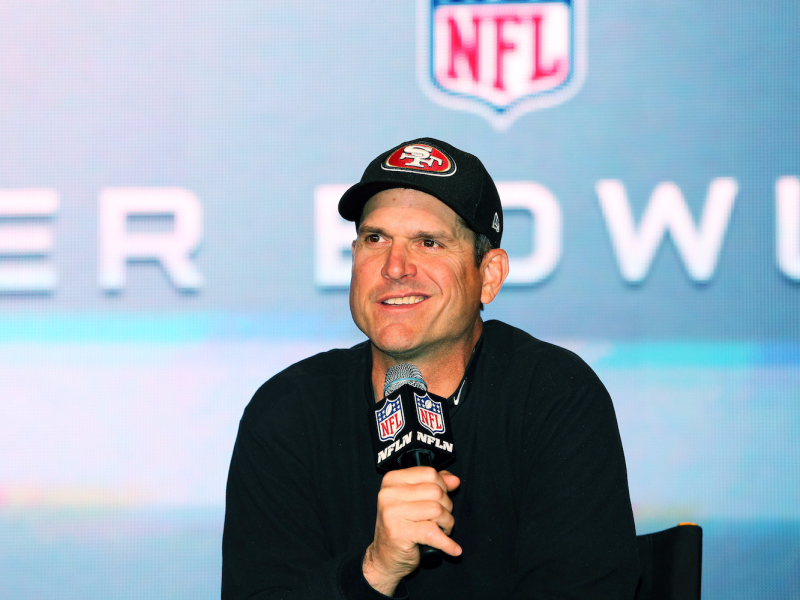 Source: ESPN
---
Ever since he slipped trying to break up a fight as the coach of the Niners, he's started wearing cleats with his khakis. The team started winning and the specialized shoes became a bit of a superstition.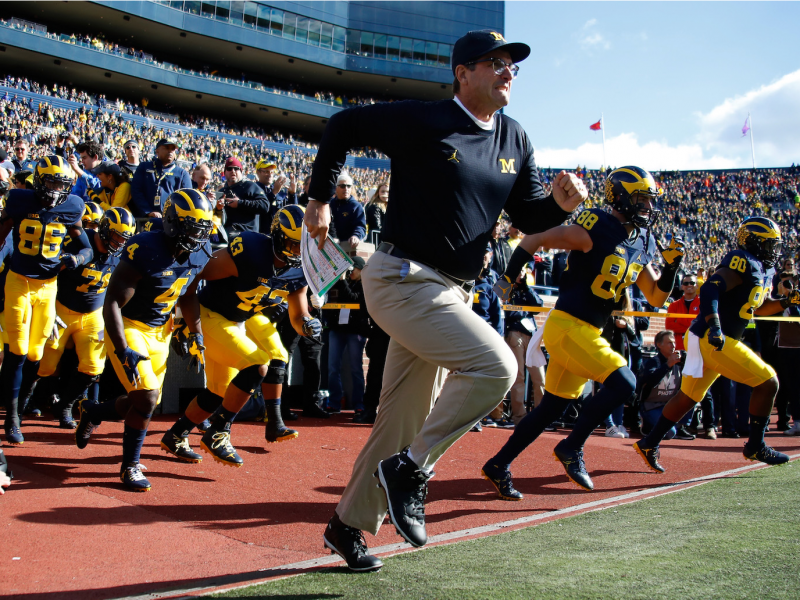 Read more: Jim Harbaugh Now Wears Cleats During Games And It May Actually Help The 49ers
---
After Stanford had its first winning season in eight years, he fired several coaches — including someone that had been in his own wedding party.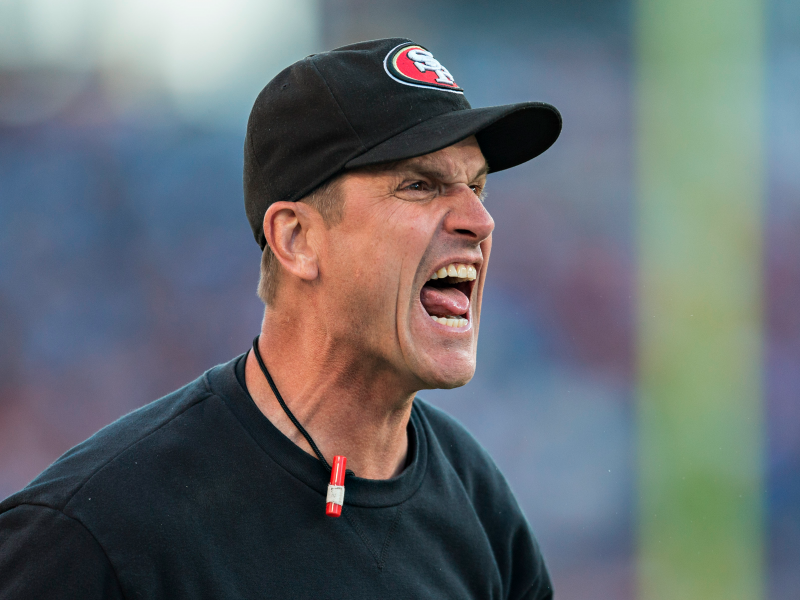 Source: MLive
---
He hunted down a child in laser tag at his own bachelor party, taking it way too seriously. As Erik Bakhtiari, a former player under Harbaugh, put it: "All his shots came against this 10-year-old kid. He just sat there, hunting this 10-year-old kid so he could win."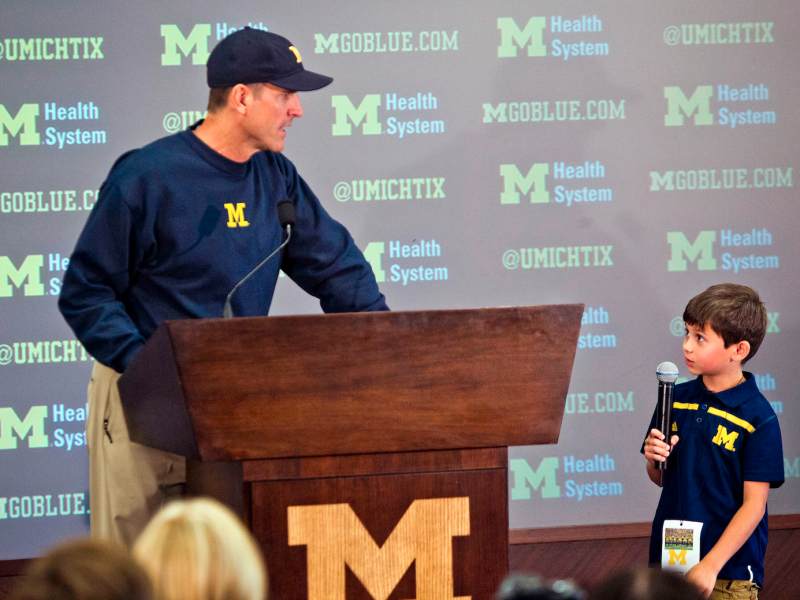 Source: MLive
---
During the 2011 NFL lockout, Harbaugh "willed himself" to keep up in athletic challenges with 49ers' GM Trent Baalke who was in much better shape. Harbaugh refused to fall behind in push-up counts, bench presses, and even racquetball, to the point where Harbaugh couldn't walk normally for two days after.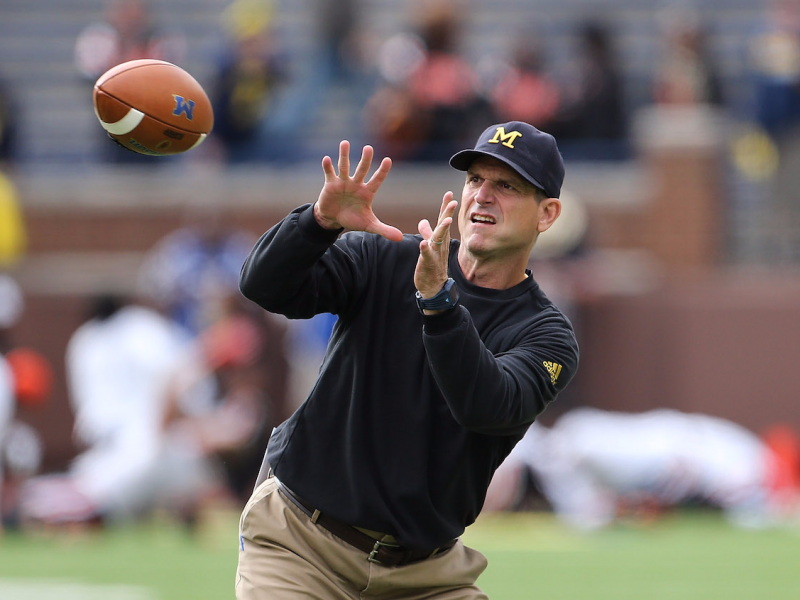 Source: NFL.com
---
He is already scouting and preparing for his young son to be recruited to play football. In response to President Barack Obama saying he would not let his children play football, Harbaugh said, "If President Obama feels that way, then there will be a little less competition for Jack Harbaugh when he gets old enough… But he's a really big kid. He's got an enormous head… As soon as he grows into that head, he's going to be something… expectations are high for young Jack."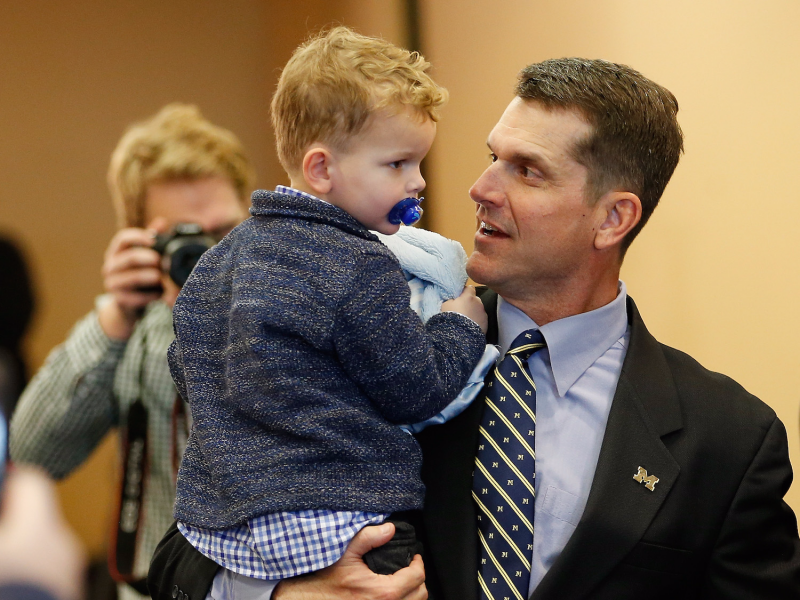 Source: Yahoo
---
He once strapped on pads during a 49ers practice because they did not have enough players.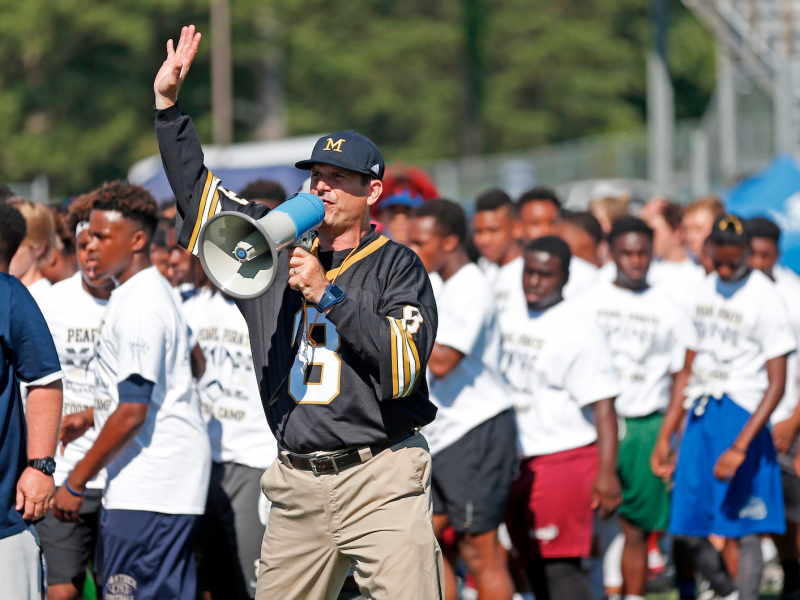 Source: MLive
---
He created a chaotic game called Peruball that includes running, hitting, and throwing, and he's been known to strip off his shirt to participate in shirts versus skins.
Source: MLive
---
He is obsessed with the fullback position, although it has been a somewhat irrelevant position in modern offenses. No matter what team he is coaching, he makes a point of finding a dark-horse fullback star.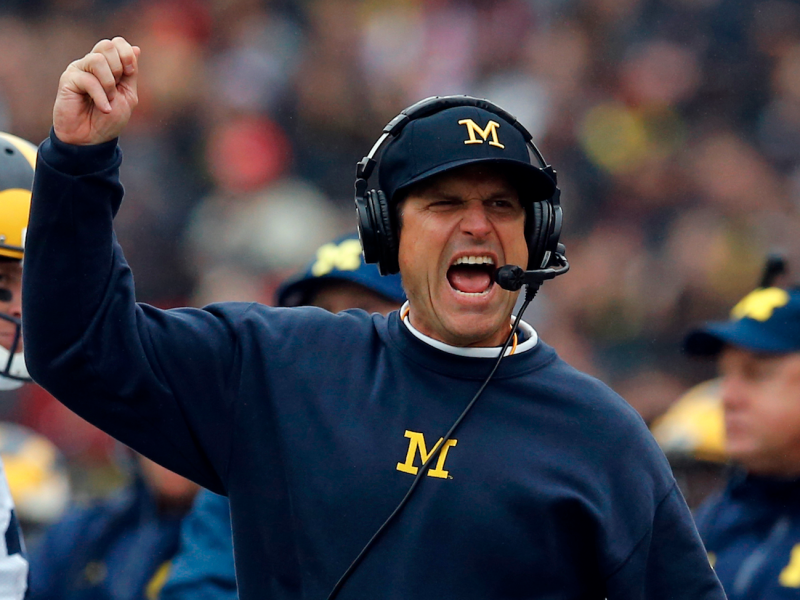 Source: WSJ
---
Competitiveness often manifests itself in superstition. And there is no coach more superstitious than Harbaugh.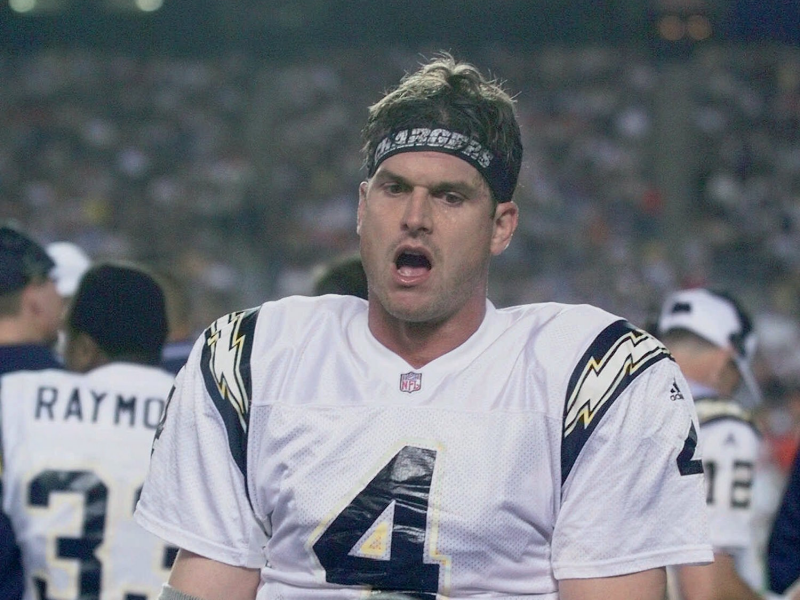 ---
When he left Stanford for the 49ers, he didn't want to get rid of his lucky black Stanford pullover, so instead he got rid of the Stanford logo and stitched on a Niners one.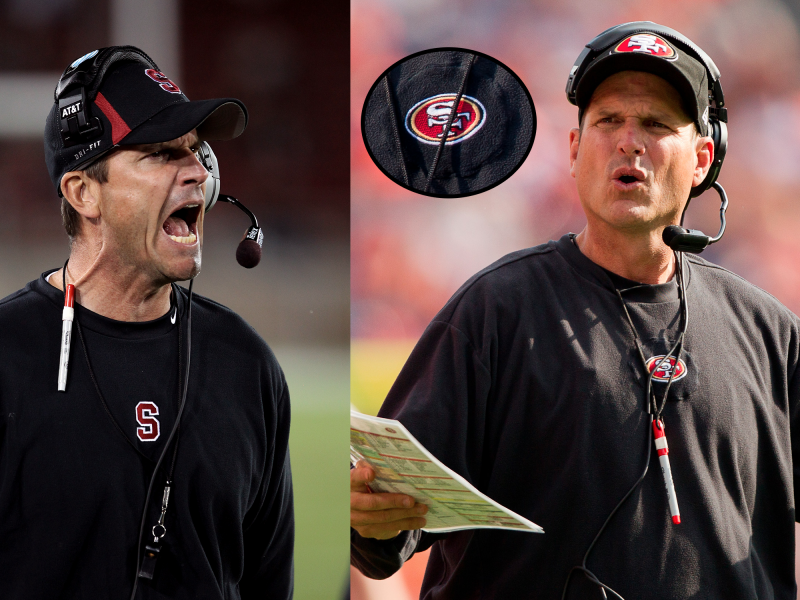 ---
Not long after he moved to Ann Arbor, he was out to dinner with his wife when a mouse suddenly broke loose, scurrying around the restaurant. Harbaugh sprung into action and, after a few minutes, trapped it in a corner and caught it in a Styrofoam box. He let it out across the street as onlookers cheered.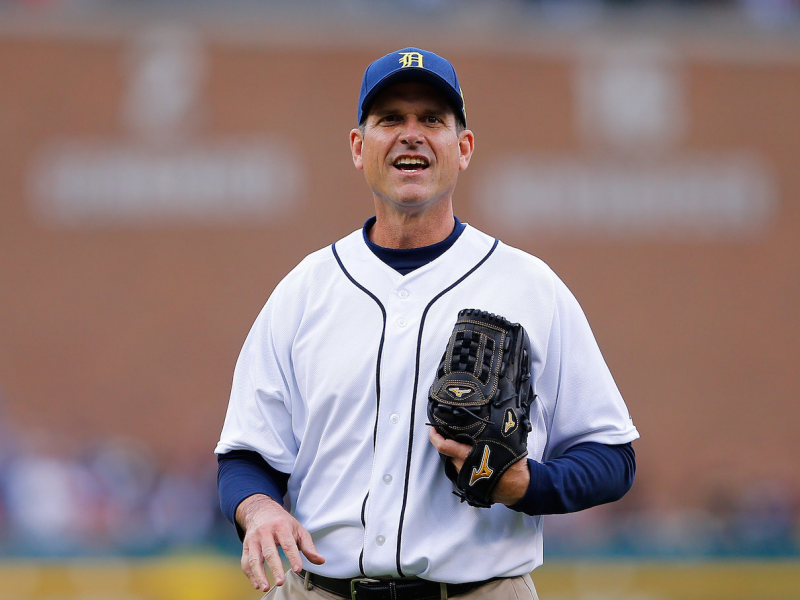 Source: Bleacher Report
---
Harbaugh's unrelenting competitiveness has caused him to butt heads with those around him. NFL wide receiver Doug Baldwin nearly quit football when playing at Stanford for Harbaugh, whom he called "a military type."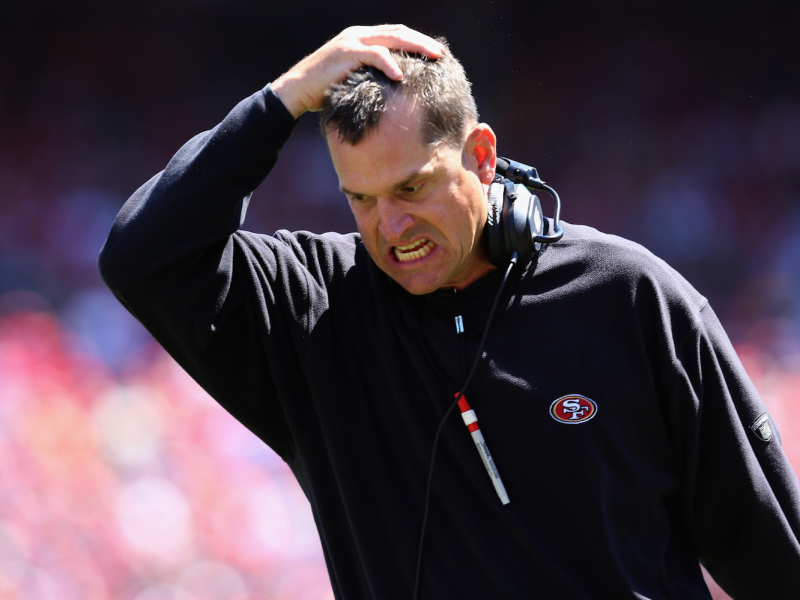 Read more: Doug Baldwin Nearly Quit Football Because Of Jim Harbaugh 5 Years Ago – Now He's The Seahawks' Best Receiver
---
He once challenged a meaningless spot in the 4th quarter of a blowout win. When asked about it the following week, he went on a long-winded rant about how bad the call was.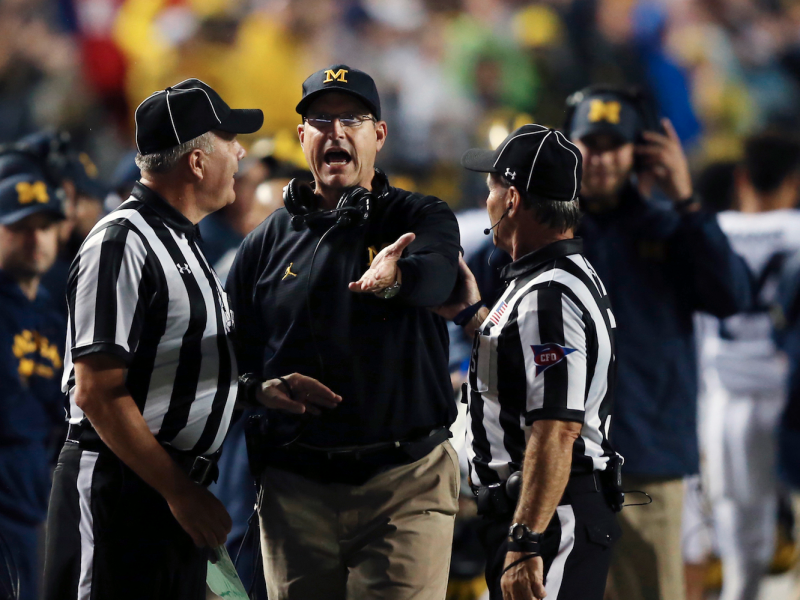 Source: Deadspin
---
Harbaugh's methods are certainly questionable, but his style has led Michigan back to being one of the top teams in the country.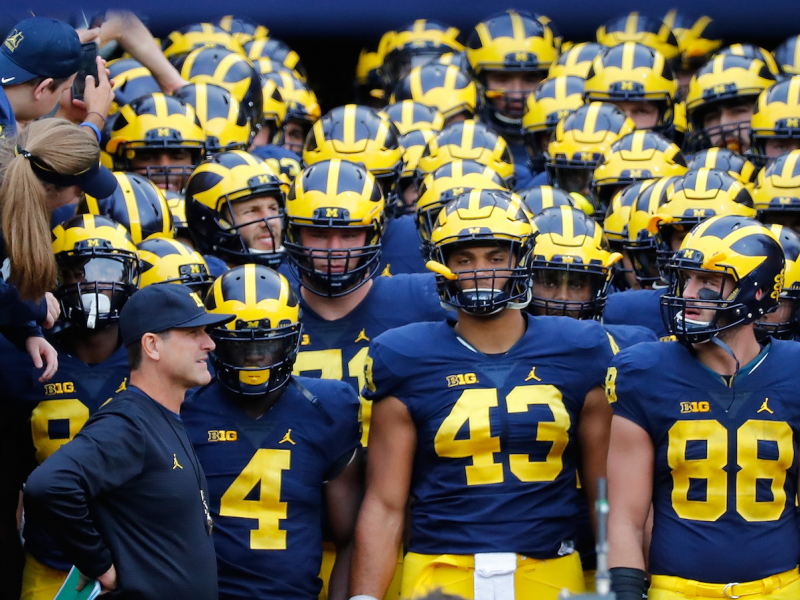 ---
If his team makes the College Football Playoff, there's no telling what sort of shenanigans he'll be up to.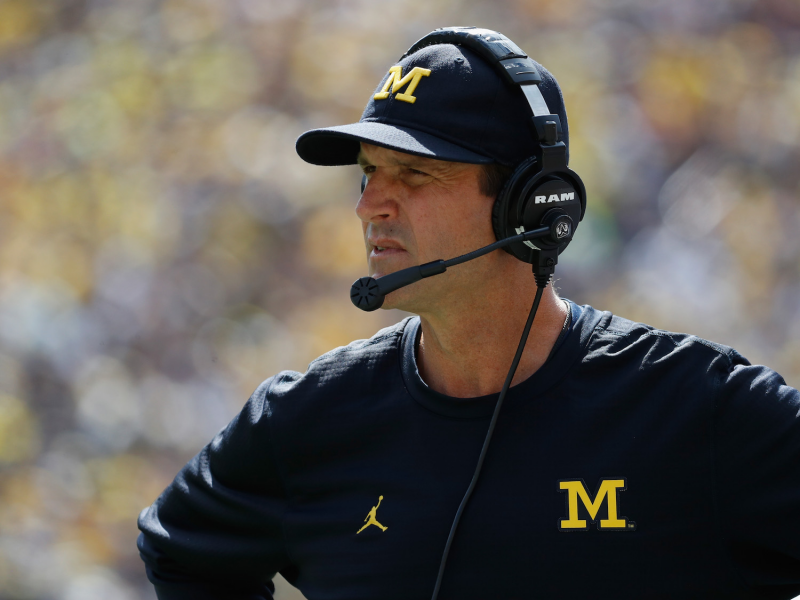 ---
Now check out the best NFL photographs of the season…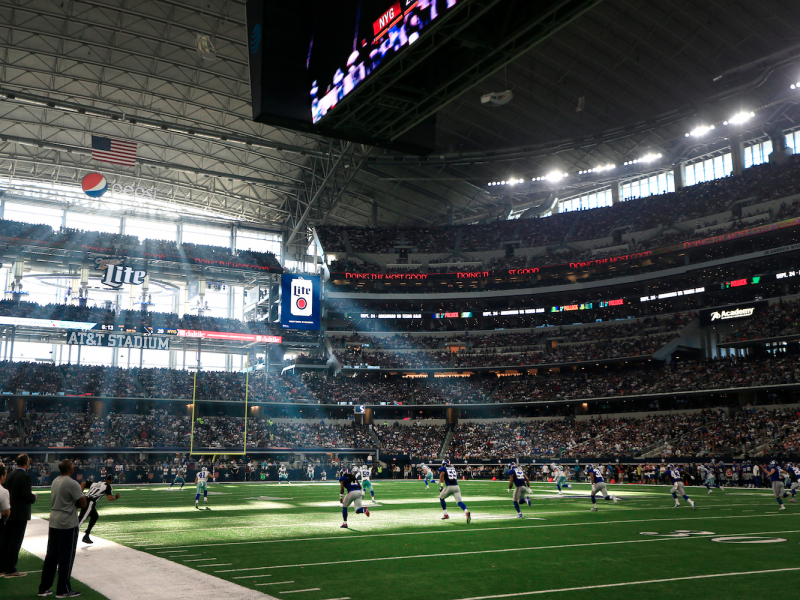 Het bericht 27 examples of Jim Harbaugh's insane competitiveness verscheen eerst op Business Insider.
Lees het hele artikel: 27 examples of Jim Harbaugh's insane competitiveness
Adverteren